Archive for March, 2009
By admin On March 24, 2009
No Comments
Guide to Dire Maul East

Grab the map here

Quest List

Dire Maul East
Lethtendris' Web
Pusillin and the Elder Azj' Tordin
Shards of the Felvine

Dire Maul North
Elven Legends
A Broken Trap
The Gordok Ogre Suit

Dire Maul North + West
Unfinished Gordok Business

Dire Maul West
The Madness Within
The Treasure of the Shen'dralar

Class-Specific Quests
The Emerald Dream – Druid
The Greatest Race of Hunters – Hunter
The Arcanist's Cookbook – Mage
Garona – A Study on Stealth and Treachery – Rogue
The Light and How to Swing It – Paladin
Holy Bologna – What the Light Won't Tell You – Priest
Frost Shock And You – Shaman
Harnessing Shadows – Warlock
Codex of Defense – Warrior
Foror's Compendium of Dragon Slaying – Warrior, Paladin

The east wing of Dire Maul is challenging, but still the
easiest of the three, and the area you'll need to do first to get the
key to the north and west wings. There are also a number of quests
and bosses spread throughout the East wing, capable of giving up some
nice loot, which makes it worth running through more than once.

1. The entrance to Dire Maul East can be found,
unsurprisingly, to the right of the large pit in the Broken
Commons. Zone in.

2. The opening area of Dire Maul East is known as the
Warpwood Quarter. There's a large pit in front of you (down
below is The Conservatory, which you'll get to soon enough),
and a path that winds counterclockwise to the right. For the most
part, you'll run into a mix of plant and tree-like creatures –
Warpwood Tanglers, Treants, Lashers, and towering Warpwood
Crushers.

3. As you round the first corner, you'll see a small little imp
named Pusillin. This is the NPC for the quest 'Pusillin
and the Elder Azj'Tordin,' and he also gives up the
Crescent Key that opens Dire
Maul North and West… when he's good and ready. You'll have
chase him further into the instance before he'll give up the goods,
however.

4. The group continues clearing until they reach the northeast
corner of the Warpwood Corner. From here, it's possible to go
left and north, but many groups will skip that area completely. To
continue your chase with Pusillin, you'll need to go right
into a narrow hallway, called The Hidden Reach.

5. Partway down the hallway, you'll have the choice of continuing
straight or making a right. To continue chasing Pusillin, you
need to continue forward. (You'll be back to the room on the right
soon enough.)

6. As you go down the hallway, you'll run into some stealthed
patrols; these can cause real problems if your group isn't alert for
them. As you emerge into the next room, the group will dispatch of a
few groups and bear to the right, where there's a small ramp leading
up to a small platform, where Pusillin waits for you.

7. This time, when you talk to Pusillin, he spawns a number
of Wildspawn Imps and transforms himself into a nasty demon.
If you have a mage on hand, it's easy to dispose of the imps while
everyone else pounds Pusillin. When he's dead, he drops the
Book of Incantations needed for
his quest, as well as the Crescent Key
for anyone who needs it.

8. At this point, most groups will turn around and backtrack to
the room you passed a few minutes ago. There are a lot of mobs here,
but if you stick to the left wall, you can skip most of them. At the
rear of the room is a large ramp leading upward to the mage
Lethtendris, who is the target of the quest 'Lethtendris'
Web.'

Lethtendris can drop: [url=http://thottbot.com/?i=35686]Quel'dorai
Channeling Rod[/url][url=http://thottbot.com/?i=35667]Felhide
Cap[/url]And some greens too


9. The fight with Lethtendris is pretty simple; the warrior
tanks her for a few seconds while everyone else beats up her minion,
then jumps on her. Once she's down, she drops the needed quest item,
and everyone moves back down to the bottom of the ramp.

10. At the base of the ramp, there's a curved hallway that leads
further downstairs. There are a few groups of mobs to clear at the
bottom, and then you'll find the boss Hydrospawn waiting in
the center in a small shallow pool. Aside from dropping some extra
loot, he's also the objective of the mage quest 'Arcane
Refreshment.'

Hydrospawn can drop: [url=http://thottbot.com/?i=39091]Waterspout
Boots[/url][url=http://thottbot.com/?i=35618]Tempest
Talisman[/url]WaveslicerAnd
also some greens.

11. After Hydrospawn, the group hugs the right wall and
continues north through the far doorway, and takes the hallway that
leads to a small platform upstairs. Here, you'll find a Wildspawn
Hellcaller protected by a few non-elite mobs, and then the boss
Zevrim Thornhoof.

Zevrim Thornhoof can drop: [url=http://thottbot.com/?i=35722]Satyr's
Bow[/url][url=http://thottbot.com/?i=35670]Helm of
Awareness[/url]Also some resistance helmets(Not high drop
chance)And some greens.

12. The fight with Thornhoof isn't bad, except that he
might occasionally teleport someone onto the altar and begin whooping
on them. When the fight is done, you'll hear Old Ironbark —
the huge tree in the Conservatory — yell 'At
last! Freed from this cursed grasp!' You're now ready for
the final stretch of the instance.

13. Instead of backtracking downstairs, the group can run to the
southwest corner of Thornhoof's platform and jump down, which
should put you right back at Hydrospawn's pool. Avoid the
groups and take the door to the southwest, which leads to The
Conservatory.

13. Your goal in the Conservatory is a door at the very
north. To open it, someone will have to talk to Old Ironbark,
who will then rampage and bust the door down. It's possible to fight
your way to the door, but that involves fighting a lot of patrols,
and it's also possible to hug the east wall and sneak to the door,
only fighting a few single mobs here and there.

14. The final battle of Dire Maul East takes place in the
Shrine of Eldre'Thalas, where there are a few Warpwood
Crushers guarding the upper areas, and then a central area down
below where Alzzin the Wildshaper awaits. It's a pretty
straightforward fight – he shapeshifts a few times, and then a bunch
of non-elite minions come running out to assist, which can easily be
dispatched of with a mage.

Alzzin the Wildshaper can drop:
Ring of Demonic Potency
Razor Gauntlets
Energetic Rod
Energized Chestplate
Fiendish Machete
Whipvine Cord
Gloves of Restoration
Merciful Greaves
Shadewood Cloak
Ring of Demonic Guile

15. Once the fight is over, you'll see a few glowing shards on the
ground near Alzzin's camp. These are for the quest 'Shards
of the Felvine.' Pick up one of the shards and exit
via the tunnel behind the camp, which deposits you in the central
area of Dire Maul.
By admin On March 21, 2009
No Comments
Enchanting 'Grind'
Nothing has been posted about grinding through enchanting yet, so here's my attempt.
The following is a *rough strategy* of how to skill up in enchanting. This might not be 100% accurate, but should give anybody a good idea of how to tackle what is the most awkward profession in the game. In addition I am currently only level 257 in Enchanting – so I am not prepared to comment much beyond 250!
As with all professions, enchanting definitely is easier to grind after you have a character at level 40 or greater. This way up until level 40, you can concentrate on getting cash for your mount. For a 'support' profession, you really need one that allows you to easily make green items. Tailoring is the most sensible, as all of the ingredients are avaible as drops or vendor bought. Leatherworking is also a very good profession for making green items, especially higher level ones (i.e. lvl 40~55), as the requirement tends to be leather and a few vendor materials. That said, my own preference is a 'collection' profession (Skinning, Mining, Herbalism), as you can then sell these items for much needed cash.
As hard as I've tried, I've not been able to come up with a definitive list of what to grind on at specific skill levels. The reason being that its impossible to know what each individual person has in the way of resources. A person who has access to somebody with Engineering or Blacksmith, is likely to end up with lots of essences, whereas a person with access to Tailoring or Leatherworking, will end up with lots of Dust. In addition, disenchant results are slightly random – something which generally gives Dust may suddenly give you an Essence or even a Shard, though it doesn't happen often, it is often enough to make life difficult to create a perfect guide (Weapons seem to be more random than Armor).
One useful hint that I can give you is with reference to when an Enchant initially goes from Orange to Yellow. You should still get a skill up for the first 5/10 enchants you do. You may get one non-skill up from this 'buffer', but its still worth doing if there are no more efficient enchants.
Endeavour to locate a *good* list of Enchants, and go from one level to the next. Every time you hit a 'magic 5′ (i.e. multiple of 5: 5, 10, 15 etc) look on the list and see if there is a more efficient item that you could be making, often there will be.
Try to be semi-self supporting. Once you hit 150 in Enchanting, there is no reason why you shouldn't be selling some of your enchants for around the 1g/2g mark. This definitely helps the cash flow no end. Level 250 is where your enchants become more popular, and you can charge a significant chunk of money for enchants. If you get the balance right, then you should be able to buy the raw disenchanted ingredients and break even once you have done some enchants.
I cannot iterate the following enough, but always disenchant quest rewards – around 50% of the time I find that they drop shards. Although the sell price of the item seems very attractive at times, the disenchanted items should make you more.
If you're in a guild then see if you can team up with somebody else who wants to grind up a skill. Leatherworking is a good one. If you pick up skinning, then give them all your leather and get them to make up green items for you to disenchant. Both of you benefit
One other possible difficulty is trying to get the raw rod for enchanting (e.g. copper, silver, golden, truesilver, arcanite). My own take on this, is to try and buy all of the ingredients to make one, and then try to find a blacksmith who is prepared to make one. Offering double the cost of the learned blacksmith recipe is a good idea as well, as this way the blacksmith will make a profit even if they have had to learn the recipe. Arcanite Rods are also very difficult to get. They require a high level Alchemist and a high level Blacksmith, plus a dropped recipe (Transmute Arcanite), rare resources (Arcane Crystals) – and that's before you even get to enchant the thing. Expect to pay upwards of 100g for an Arcanite Rod.
Bear in mind as well, that the Artisan trainer for Enchanting is within the Uldmaan Instance. This however isn't too much of a hassle, as you can't train in Artisan Enchanting until level 35, and that's about the right level for this instance. Go with a level 60 friend and life will be really easy, but if not, then go with a group and make sure that you want to stop off there for around 10 minutes to level up enchanting. Offer the whole group enchants that will get you skill ups if necessary! I would recommend however, to level up to 225 before going to Uldmaan, and taking enough resources with you to level up from 225 to 250 in the instance. Also take about 20g with you and you can learn every 225~250 enchant that can be taught, that way you will never have to go back into the instance. The reason for stopping at 250, is that every enchant with a requirement beyond 250, is vendor bought or dropped.
—-
Although I can't create a definitive list of what to do when, the following is a rough idea of what to go for. I've concentrated on things that require Dusts as it is generally easier to get Dust than anything else.
1~50 – Disenchant anything!
1 – Enchant Chest – Minor Health (1 x Strange Dust)
50 – Enchant Bracer – Minor Stamina (3 x Strange Dust)
80 – Enchant Bracer – Minor Strength (5 x Strange Dust)
110 – Enchant 2H Weapon – Lesser Spirit (6 x Strange Dust)
130 – Enchant Bracer – Lesser Stamina (2 x Soul Dust)
140 – Enchant Bracer – Lesser Strength (2 x Soul Dust)
160 – Enchant Chest – Greater Health (3 x Soul Dust)
170 – Enchant Boots – Lesser Stamina (4 x Soul Dust)
180 – Enchant Bracer – Strength (1 x Vision Dust)
205 – Enchant Cloak – Greater Defence (3 x Vision Dust)
210 – Enchant Shield – Stamina (5 x Vision Dust)
215 – Enchant Boots – Stamina (5 x Vision Dust)
220 – Enchant Chest – Superior Health (6 x Vision Dust)
245 – Enchant Bracer – Greater Stamina (5 x Dream Dust)
260 – Enchant Boots – Greater Stamina (10 x Dream Dust)
265 – Enchant Shield – Greater Stamina (10 x Dream Dust)
285 – Enchant Cloak – Superior Defence (8 x Illusion Dust)
Erm – Ok, you could use this as a what to grind at what level I guess :p
—-
The following is a reasonable list of efficient green armor items to make and disenchant. I've concentrated on Leatherworking and Tailoring, for the simple reason, that I don't consider Blacksmithing and Engineering to be very efficient as nearly all green items require 'uncommon' resources. Although alot of green Leather items require Hides, not all do, and at higher levels the requirement for hide drops significantly.
Strange Dust -
T30 – Brown Linen Robe (Low Yield) – 3 Bolts Linen (6) + 1 Coarse Thread
T85 – Heavy Woolen Cloak – 3 Bolts Wool (9) + 2 Fine Thread
L105 – Fine Leather Pants – 8 x Med Leather + 1 Bolt Wool (3) + 1 Fine Thread
Soul Dust -
L150 – Green Leather Armor (Vendor) – 9 x Heavy Leather + 2 x Green Dye + 4 x Fine Thread
L160 – Guardian Pants – 12 x Heavy Leather + 2 x Bolts Silk (10) + 2 x Fine Thread
T165 – Green Silk Armor (Drop) – 5 Bolts Silk (20) + 1 Silken Thread
T175 – Azure Silk Cloak (Vendor) – 3 Bolts Silk (15) + 2 Fine Thread + 2 Blue Dye
T205 – Black Mageweave Leggings – 3 Bolts Mageweave (15) + 2 Silken Thread
T205 – Black Mageweave Vest – 2 Bolts Mageweave (10) + 3 Silken Thread
Vision Dust -
L205 – Nightscape Headband – 5 x Thick Leather + 2 x Silken Thread
T210 – Black Mageweave Robe – 3 Bolts Mageweave (15) + 1 Heavy Silken Thread
T215 – Black Mageweave Gloves – 2 Bolts Mageweave (10) + 2 Heavy Silken Thread
Dream Dust -
T255 – Frostweave Robe (Drop) – 5 Bolts Mageweave (25) + 1 Rune Thread
L260 – Wicked Leather Gauntlets (Vendor) – 8 x Rugged Leather + 1 x Black Dye + 1 x Rune Thread
T265 – Runecloth Belt – 3 Bolts Runecloth (15) + 1 Rune Thread
T265 – Runecloth Gloves – 4 Bolts Runecloth (20) + 1 Rune Thread + 4 Rugged Leather
L265 – Wicked Leather Bracers (Drop) – 8 x Rugged Leather + 1 x Black Dye + 1 x Rune Thread
Good places to grind cloth (i.e. multi-drops of cloth from 1 of 3 kills or better) – I play horde so this is Horde related:
Linen – Theramore Keep (South of Ratchet)
Wool – Dunholm Keep (Hillsbrad)
Silk – Roguefury Caves (Thousand Needles)
Silk – Scarlet Monastery (Trisfal Glades)
Mageweave – Feralas (Various Ogres)
—-
Overall, Enchanting can become a profitable and rewarding skill to have, however getting to skill 300 and some of the better enchants, will take considerable investment of cash, time and hair pulling.
One final piece is aimed at all of the buyers of enchants – please don't hassle if you feel that an enchant is overpriced. Check out a web site and see what actual ingredients are required for the enchant you're after. Every shard used is effectively a blue item that wasn't sold on the AH, and essence's come from green weapons. Some of the top level enchants require 4 shards and a whole host of other items. If necessary /whisper the enchanter and see what enchant they'd be prepared to do for the price you're willing to pay. Its not your right to have an enchant on an item, and selling enchants in a city requires the enchanter to take time out from doing other things – *we* can't just put our trade on the AH!
By admin On March 20, 2009
No Comments
I wrote this exact post on my guild site, so if you recognize it from there, I guess you know who I am
Many people have asked how I have ground up my reputation with the Cenarion Circle so quickly.
My rep gains and notes may be off slightly. I had to try and recall much of it, and find stuff on the net. Please check your rep gains after each, to make sure you still get rep for dukes at honored for example (because you don't at revered)
Neutral to Friendly (3000 rep)
I would suggest just nose to the grindstone killing Twilight Cultists and gathering sets of clothes and Encrypted Text. Don't turn them in yet. Mail them to an alt and back to yourself if needed. (When I mail them back, I mail a cowl, robe, and mantle before mailing more of another type. Just to keep them together so I can grab them quicker from the bank)
Get in any group you can that is killing cultists, templars, or dukes. A little more rep, goes faster in a group, and is more fun than solo grinding.
Killing Cultists, flamereaver, or keeper 1 rep
Killing trash mobs in AQ20 3 rep
Killing a summoned Templar 5 rep
Killing a summoned Duke 10 Rep
Killing a boss in AQ20 133 rep+
Druids can gain faction points by completing theie quests to get Bear form, Cure poison, and Aquatic form. There is also one in Maraudon from Desolace gives faction points also. The quest for DM East from Moonglade can be returned for reputation, too.
Friendly to Honored (6000 rep)
Silithus quests and more grind killing of Cultists.
Killing Cultists, flamereaver, and keeper still gives 1 rep
Killing trash mobs in AQ20 3 rep
Killing a summoned Templar 5 rep
Killing a summoned Duke 10 Rep
Killing a boss in AQ20 133 rep+
Quests;
Armament of War 100 rep
Brann Bronzebeard's Lost Letter 100 rep
Breaking the Code 100 rep
Deadly Desert Venom 75 rep
Dearest Natalia 100 rep
-Into the Maw of Madness 200 rep
Desert Recipe (do this if you can. Important later) 10 rep
-Sharing the Knowledge 50 rep
-Kitchen Assistance 50 rep
Dukes of the Council 50 rep
-Bor Wildmane 25 rep
Glyph Chasing 100 rep
Hive in the Tower 100 rep
-Umber Archivist 50 rep
-Uncovering Past Secrets 150 rep
Securing the Supply Lines 75 rep
-Stepping up Security 100 rep
Twilight Mystery 100 rep
-The Deserter 50 rep
-The Twilight Lexicon 100 rep
-A Terrible Purpose 100 rep
Twilight Geolords 100 rep
-Vyral the Vile 100 rep
Noggle's Last Hope 100 rep
Noggle's Lost Satchel 100 rep
Unraveling The Mystery 75 rep
-The Calling 200 rep
Wanted: Deathclasp 100 rep
Important to start doing the major repeatables now;
Field Duty 20 rep
Tactical, Combat, and Logistics Missions 50 rep
These are going to be needed to gather badges, which you will need for rewards.
Honored to Revered (12000 rep)
Killing Flamereaver, or Keeper 1 rep
Killing trash mobs in AQ20 3 rep
Killing a summoned Duke 10 Rep
Killing a boss in AQ20 133 rep+
Start doing the repeatable Encrypted Twilight text quest, 10 pages 100 rep
Keep doing Field Duty and repeatable Tactical, Logistic, Combat quests 20-50 rep
Revered to Exalted (21000 rep)
Killing trash mobs in AQ20 3 rep
Killing a boss in AQ20 133 rep+
Abyssal Signets Quest, one signet 150 rep first
Abyssal Signets Quest (repeated), 3 signets 100 rep
Keep doing Encrypted Twilight text quest, 10 pages 100 rep
Don't waste crests doing abyssal crests quest. Use them to summon dukes.
By the end A LOT of it is Encrypted Twilight Texts. Pages are now going for about 1g per page (Don't pay more…work together to keep costs down), so 10g per 100 rep. That gets damn spendy, but worth it to me. Here is how I fund it;
It costs about 17g per Duke to summon one if you bought the mats yourself. If you saved and gathered mats from all you have done up until Honored you should have a bunch to get started for free.
The big money maker is the Abyssal (leather/cloth/etc) leggings of (striking/sorcery). I am getting about 100-140g for each set, and they sell well. I turn right around and buy Encrypted Texts with this money. About each 2nd or 3rd Duke drops a set. That way one pair of leggings turned into text pages works out to about 1000-1500 rep.
The signets have also been selling quite well from killing dukes. About 30g each on my server.
I keep an alt parked in UC. I send legs to him, he auctions, buys texts, and mails them back to cut down travel time. I also use him for some mats for Logistics quests. I had a hard time finding Heavy Armor Kits on AH, so I ground his Leatherworking up to 150 and make my own. If you need any I keep him parked there for that, and will make them at cost for any conventus member.
By admin On March 18, 2009
No Comments
Summary:
Do very, very few quests from level 30 to level 52. Then do quests as quickly as you possibly can until you ding at 60.

Levels: 21, 22, 23, 24
Where: Southeast Duskwood (Tranquil Gardens Cemetary)
Mobs: Level 21-23 Skeleton Warriors/Mages
Comments: The area is packed with mobs and has a fast respawn rate. Should get around 18,000 EXP/hour here. Do the quest titled 'The Night Watch' because it is a really good grinding quest.

Levels: 24, 25, 26
Where: Northwest Duskwood (Raven Hill Cemetary)
Mobs: Level 23-25 Skeletal Fiends/Horrors
Comments: If this area is packed with players, you can always jump over to the Ghoul area north of the Skeleton area. Watch out for Mor'Ladim. The second 'Night Watch' quest is here. Raven Hill is rather far away from the graveyard; don't die as you will have a long walk.

Levels: 26, 27, 28, 29
Where: Duskwood
Mobs: Level 27-29 Ghouls (Raven Hill Cemetary/Catacombs), Level 26-30 Ogres (Ogre Mound)
Comments: I'm sorta at a loss about what to say for these levels. The Worgen quest gives a 24.2 dps wand (if you didn't do BFD) and the Bride of the Embalmer quest gives a 7 INT/7 SPR pair of shoulders. Do whatever for these levels, but if you're going to quest it up in Duskwood, do bunches of quests at a time to minimize travel time. Set your hearth to Darkshire, also.

Levels: 29, 30, 31, 32
Where: Northeast Duskwood (Manor Mismantle)
Mobs: Level 29-30 Fetid Corpses
Comments: There are two treasure chests here (one in the middle of the area, one in the house). Be careful of Stalvan inside the house; stay away from him since he curses you. You'll need to remove the disease these zombies give you. You'll get lots of wool and a bit of silk from here.

Levels: 33, 34
Where: East Desolace (Kolkar Village)
Mobs: Level 31-34 Centaurs
Comments: There is one grind quest here for Centaur Ears, and the quest reward is a 7 SPR ring. You can easily get a ton of silk and mageweave here. Level 33-36 were the slowest leveling paces and the most painful. I'm wondering if there are better places to grind than in Desolace (e.g., Arathi trolls perhaps?). If you want my personal opinion, avoid Stranglethorn Vale, especially if you are on a PvP server as you will not get anything done quickly.

Levels: 35, 36
Where: Southeast Desolace (Magram Village)
Mobs: Level 32-36 Centaurs
Comments: This can be a tough area to grind in, if you let it be. You have to find the correct spot and just get in a groove. For me, I used the spot on the map where the land juts into the lake to form a peninsula. There is a small tower near, and you can cross the bridge and kill the mobs on the island if you would like. Beware and avoid the Pack Leaders at all costs (they spell easy death). Figure out their movement paths so that you can avoid them.

Levels: 37, 38, 39, 40
Where: Northwest Badlands (Dustbowl)
Mobs: Level 37-39 Lesser Rock Elementals
Comments: Your greatest grinding will probably take place here. Your mount money will come from here. Elemental Earths sell for 75 silver to 1 gold a piece on the auction house on my server, and stacks of 20 Solid Stone sell for 1.5 gold to 2 gold. Make use of the auction house! At level 40, I had about 200 gold thanks to Badlands. The Elemental Earths are also good if you are a tailor (powerlevel your tailoring skill with the Earthen Vest pattern. There is also a grind quest for the Lesser Rock Elementals. IMPORTANT NOTE: Make sure you are NOT using a nature-based wand. Elementals are IMMUNE to nature damage. If you are an enchanter, you can craft yourself a Greater Mystic Rod (level 175).

Levels: 39, 40, 41, 42
Where: South Badlands (Mirage Flats)
Mobs: Level 39-40 Rock Elementals
Comments: These guys are located very south in the mountain area. Another grind quest here. You'll continue to get fast experience and make big money here. The only downside to grinding these Elementals in Badlands is that you won't have much mageweave (if you're a tailor). At level 40, your EXP/hour will shoot up to around 30,000!

Levels: 42, 43, 44, 45
Where: Southwest Badlands (Camp Something)
Mobs: Level 42-44 Greater Rock Elementals
Comments: There are two areas with these guys, one to the east of the Ogre cave and one to the west. The eastern area in the hills is the larger of the two and works best for grinding. The area is circular, so you can just go around in circles over and over again. If the eastern area becomes packed with players, you can switch back and forth between the two areas easily. Also, there is another grinding quest here.

Levels: 45, 46, 47
Where: East Tanaris (Lost Rigger Cove)
Mobs: Level 44-45 Southsea Pirates
Comments: After 9 levels in Badlands, you finally get some change of scenery. This area can be have quite a few players around, so you'll need to be fast. As a Shadowpriest, you should kill (and recover) things FAST, so you grind very well in crowded areas. There are five quests of note here, most of them starting in Steamwheedle Port (Northeast of Gadgetzan). There's a pirate hats quest, two WANTED quests worth doing, a grind quest, a ship schedule quest, etc. The map fragments quest and the Find OOX-117 quests are NOT worth doing, by the way. You'll get decent Mageweave cloth here. Grind both inside the fenced area and outside it, just wherever there are respawns. Work your way around.

Levels: 48, 49, 50
Where: Southwest Tanaris (Thistleshrub Valley)
Mobs: Level 47-50 Thistleshrubs
Comments: More elementals (so don't use that nature-damage wand). These are great for alchemists since they drop Gromsblood, Blindweed, Ghost Mushrooms, etc. The Rootshapers go down VERY quickly for mobs at this level (low 2000s HP). There are two quests here (both in Gadgetzen, one is for Noggenfogger). I experienced a high green drop rate here and even found a purple (Flurry Axe sold for 300 gold). You should be hitting 33,000 EXP/hour here.

Levels: 51, 52
Where: Southwest Western Plaguelands (Sorrow Hill)
Mobs: Level 50-52 Skeletons/Ghouls
Comments: This is very tricky grinding. This area will be very crowded, so you may not want to grind here at all. For these levels, I sometimes logged on late at night and did these when the server population was low. This area is very streaky. For a few hours one night at like 7pm, I grinded totally undisturbed. It is a great area since the mobs are weak, you get Runecloth, Scourgestones for Argent Dawn reputation (keep that A.D. Commission equipped!), etc. Right near a graveyard if you die. You also might want to consider grinding in Felwood for Timbermaw reputation or even for Felcloth during these levels, but that will probably be just as crowded.

Levels: 52, 53, 54
Where: Un'Goro
What: Quests, Level 52-54 Tar Lords/Lurkers
Comments: I held off on Un'Goro until level 53 for a reason. On my last character, I quested in Un'Goro starting at level 50, but I found I was unable to do half the quests and by the time I reached level 54-56, I was dry on quests everywhere. The Tar Lords/Lurkers are EXCELLENT to grind since they drop Living Essences (which you can either use for Timbermaw recipes, Hide of the Wild, or just the auction house). These elementals drop herbs also. This spot's very near the camp (vendor/repair). It is important to note, however, that you should begin doing quests again. Do all of the quests in Un'Goro with few exceptions. You probably don't want to do the entire Linken Chain since it involves a lot of travelling, but you can do the first few parts before giving up on the chain. Be wary of the Pterodax quests. Don't spend a lot of time on them. Try to keep an eye out for Pterodaxes while you're riding around like an idiot collecting soil (for a quest in Darnassus, if you're ever near there) and crystals.

Level: 55
Where: Felwood
What: Quests, Level 48-50 Furbolgs/Level 51-52 Satyrs
Comments: Felwood is a tricky zone, but many of the quests here are worth the travel if you do and turn in several at once. While crisscrossing across Felwood, I completed the Timbermaw Ally quest several times. You will want at least Unfriendly reputation so that you can access Winterspring. The Satyrs drop Felcloth, but these areas will be crowded with farmers. In my experience, the northern area (Jadefire Run) was very crowded, but the southern area wasn't. You can probably get 3/4 of a level out of Felwood. Note that the quest where you have to explore the craters and kill 2 Entropy Beasts (or whatever) is incorrectly marked elite (you can solo it just fine).

Levels: 55, 56
Where: Winterspring
What: Quests, Level 53-56 Winterfall Furbolgs, Level 55-58 Yetis
Comments: Felwood and Winterspring go hand-in-hand, and you'll run back and forth between them a lot. When you reach Winterspring the first time, you should have two quests from Un'Goro that direct you to Donova Snowden. Most of the quests here are pretty easy and straightforward. The Yeti-Fur one is a bit difficult, so try not to focus on it in particular. Try to do it gradually as you ride around Winterspring. If you can catch the furbolg areas free in the western part of the zone, you can grind there for easy EXP and reputation (the Totemics are very weak). The Yetis in the eastern regions and caves are great grinding as well. Note that for the Winterfall Runner quest, there is one Winterfall Runner in Deadwood Village in Felwood that you can kill to obtain the package (so you don't have to run around searching for those three runners). Also, the Recipe: Mooncloth pattern can be bought from a vendor in Everlook.

Levels: 56, 57
Where: Western Plaguelands
What: Quests
Comments: Western Plaguelands is most definitely an awesome zone in the game. There are so many quests here in such a small zone. Do all four of the cauldron quests. Try to get a group for Araj. At level 56, I was able to do the 'All Along The Watchtowers' quest without aggroing the elite inside the towers (inch up to the door slowly). There are a couple quests that start in the Inn in Andorhall. At the first farm, there is a ghost inside the house that starts a line of quests. At the second farm, there is a diary on the floor in the barn that starts a line of quests. At the third farm, there is a dead druid in one of the houses that starts a line of quests.

Additionally, there is a lone human in the northern part of this zone that starts a line of quests dealing with the Scarlet Crusaders. The final quest in this line is probably one of the best quests in World of Warcraft. Tip on soloing it– PW:Fort, Inner Fire, PW:S, jump on your mount, ride like hell through Hearthglen, use Psychic Scream at the bottom of the tower where the two Paladins are, renew/shield yourself going up the tower, make sure you get credit for the quest at the top of the tower, jump off so that you land on the wall beneath and don't take as much damage, use a potion/Desperate Prayer if applicable, run like hell out of Hearthglen. 6200 EXP and 1.75 gold quest reward. I was averaging about 50,000-53,000 EXP/hour during this time.

Levels: 57, 58
Where: Eastern Plaguelands
What: Quests
Comments: Tirion's quests are nice and lead to the eventual 'Of Family' quest in Scarlet Strat (which gives an AWESOME cape). They are grueling and take a while, but they are well worth the EXP and the latter quests in the line. Be very careful of the quest 'Of Forgotten Memories.' It is very unlikely that you can solo it. Slowly make your way toward Light Chappel's Hill, killing all the Bats/Hounds/Grubs and doing a couple Darrowshire quests. There are a lot of Bats concentrated near the Marris Steed, and a lot of Grubs Northeast of that tower near there. Avoid the quest where you have to explode the eight Ziggurauts (takes too long). There are some frustrating quests here where you have to gather a list of supplies or bring something from another zone (e.g., the Fragments of the Past quest where you need Crystal Restore from the Northern Pylon in Un'Goro and a quest item from outside Dire Maul). You'll probably want to avoid these quests. You'll dip down to 40,000 EXP/hour here, but that's still pretty good.

Levels: 58, 59, 60
Where: Silithus
What: Quests, Level 57-58 Rock Elementals, Level 58-60 Twilight Cultists
Comments: Find a group to do all of the elite Hive quests at once, and you'll get nearly half a level upon completion of all of the quests. You'll be grouping a lot in Silithus. You can grind Scorpids for Scorpid Blood drops if you want, or the Rock Elementals for Essences of Earth. The Twilight Cultist camps will probably be crowded with people farming gear/tablets, but then again this entire zone is packed but very fun!

In conclusion:
If you plan on healing in end game raids, you'll probably want some variation of Disc/Holy (31/20 or 26/25 seem to be the two most popular versions). If you want to respec, you can do this at any time after about level 56, but I recommend just rushing through to level 60 while you're still Shadow. Also, you might want to PVP your way up to Sergeant for that additional 10% discount before you spec healbot. Of course, you don't have to spec healbot at all. Spec whatever you want.
By admin On March 17, 2009
No Comments
Hi again folks,
K, first off, my blatant moan to get additional votes for my post
This may be the final guide in the series as though they seem to get an awful lot of use, I'm really not sure on whether or not people are finding them valuable. However the people that did read, vote and feedback on the last two tutorials have inspired me to write a third. This one's for you lot:
Being a (insert class here) from 40-50.
Ok, first of all, it's any class now, the reason I say that is because any class can solo in WoW if you have even a shred of skill with your class. If you didn't have that skill, you'd probably not have made it to 40 so I'm going to assume you can manage even level mobs one on one. To highlight this, when I wrote the first two guides, I was a hunter. I'm now also a warrior, and's had no trouble following this strat, even as a defensive specced tank, one of the worst (if not THE worst) soloists in the game.
We left our hunter/(class) bouncing around places like stranglethorn and gnomeregan, floating off to southsore and alterac now and again for maximump xp. Here's where to go from there (again, imho)…
Freshly dinged 40!
OK so you made it, well done, hitting 40 is almost like finishing a very long grind and quest. The quest for your mount. If you read the other threads on here you should also have the money for it by now but in case you dont, some quick tips are:
Sell resources, leather, ores, enchanting dust, herbs… it all sells pretty good on the AH.
KEEP! Those grey weaps that drop, even grey armour sells relatively well but weapons in particular are often more valuable than their green armour counterparts of the same level.
Dont be afraid to go farm for cash, a particularly good spot is Rock Elementals in Arathi, but it's farmed to hell so perhaps somewhere else is just as good for you. (I found the basilisk loot in STV quite valuable).
OK, that's enough about Mounts, once you've finished prancing around your chosen city in front of the AH on it, get your head together and prepare for what some might call a "real grind", having come from SWG to WoW I would question anyones definition of a grind in WoW but that's another matter.
One thing I will say about grinding, up until now, it was a choice whether you wanted to quest your way on through or do some grinding to speed your passage to the next level. From 40 on in, there's not so much of a choice, in order to level quickly you will HAVE to grind. To quest your way from 40-50 would probably require the completion of every quest in the game in this level range, and by the time you'd found and done them all, you'd have been 60 by grinding. Quest by all means, it's a good way to pick up nice items, but do your homework, if the quest reward sucks ass, or can't be used by you. The don't wate your time unless you really want to do the quest.
For some classes, level 40 brings with it some nice goodies, namely plate or mail armour, if you've been saving this stuff up for now, you're a clever monkey, go put it on, it'll help with the rest of this guide immensely.
40-43
For these first few levels you have a few options, varying in loot/xp and safety as you might expect, the best options I found were:
Scarlet Monastery – You may have already done it by now, but the experience gained in a round trip of SM is still pretty damn good at this level, and the loot off the bosses is not to be sniffed at either.
STV – If you've followed the last two guides then there's a good chance you're sick to death of this place, but even so, for the good ol grinder among us, here's some good choices for xp in this range:
Stranglethorn Tigresses (37/38)
Elder Mistvale Gorillas (40ish)
I pretty much exclusively killed these two types of creatures whenever I wasn't in the mood for an instance of questing. The xp is good and both have some drops that sell well, most notably the Coarse Gorilla Hairs which sell very well indeed.
With the added green/blue items dropping very occasionally, you should find them quite enjoyable, what's good about the gorillas in particular, is that they spawn fast in a relatively small area so grinding on them is easy.
On Hitting 43, there's one place that can't really be rivalled for experience, loot and general fun. It is of course:
Uldaman
This instance is a fairly straight forward affair with troggs and dwarves ruining what's otherwise quite a nice cave.
The noticeable difference of Uldaman over other instances, is that there are some of your first level 500 bosses thrown in for good fun. Namely the bosses Ironaya and Archaedas.
I'm not going to go into strategy on this dungeon as many will choose not to go, or wont be able to without a good group. Suffice to say, the levelling xp in an instanced dungeon is always going to be good.
If that's not your cup of tea here's my real top pick for xp at 43+
43-46
Wastewander pirates in Tanaris. It's as simple as that, these guys are ridiculously good for levelling. They range from 40-41 with the occasioanl 42/43 mage thrown in to keep you on your toes. You can pick up a quest in Gadgetzan to go kill them, and whats more you can keep on turning in their water pouches for 380xp a time. I was turning in 40 or so at the end of an evening which was paying out 3-4k experience on top of grind experience.
To add to this, these guys commonly drop mageweave meaning you can max up your first aid and minimise your down time whilst hunting here. They also drop "Moonberry Juice" pretty commonly, keeping all the people with Blue Bars happy with it's 1395 mana regen. They also very commonly drop scorpid leather patterns, with scorpid scales available in the same zone and tailoring supplies in gadgetzan. If you're a hunter leatherworker, you can come into Tanaris in Leather, and leave wearing full scorpid mail!
Furthermore… these pirate camps very commonly spawn treasure chests, they don't contain great stuff all the time, but I've had blues and green items from them with good success. I also have a good stock of Superior health potions and greater mana potions as a result of camping here.
Further still! These pirates are just a minute or two away from a Graveyard and a City so you can buy bullets, sell your loot and even rest overnight if you so wish to.
These reasons, should be enough to keep you killing here until you reach level 46. But where do you go then? The answer is simple…
46-50
More pirates. Yeh you heard me, just to the south east of the first batch of pirates you've so mercilessly slaughtered is a hidden cove. By now you may have already been in here to kill "Andre Firebeard", a bounty on his head can be gotten from Steamwheedle Port.
In this cove, you'll find 44-45 pirates and once again, the benefits from above can be applied, there's more xp more loot, more chests and best of all, these guys respawn real fast. Maybe 5 minutes on each mob max. By the time you've cleared all the way down to the fort, you've usually got the majority of them back up behind you again.
You can grind here perfectly, stopping to hand in loot is your only burden, and you could easily forego that if you were really wanting to gain xp. In just a few nights of hunting here I made an average of 20 gold a night and levelled extremely quickly.
This should keep you all going right on up to level 50 if you can keep your mind focsed on killing quickly and can stomach the grind.
Some nice deviations from this if you do get bored are:
40+:
STV, Scarlet Monastery, Alterac, Badlands
43+:
Uldaman, Alterac (Elite Ogres), Feralas,
46+:
"Dont deviate!" but if you must, Zul Farrak, Southern Tanaris, Parts of STV,
The grind is long and hard from 40-50 and will take even the hardest of players a few solid days of playing to acheive. You can probably grind the whole lot in around the 60 hour mark if you have the stomach for it, but not many can grind for so long.
Some handy pointers:
Sell your mageweave on the AH if you have stacks of 20, it sells fast and you can afford to sell it a little under the competition when you're getting it this easy.
Keep some "emergency" tools on you, Swiftness potions, Superior healing, Greater mana pots can all bail you out of some untimely deaths.
Pull! Use proper pulling tactics to ensure you fight only one enemy at a time.
Don't be afraid to run. It's quicker to run out of aggro range than it is to run back from the GY. Corpse runs can seriously affect your morale, making the rest of the grind harder.
Right, best of luck to you, may your grind be swift and painless.
As always, spelling is not my forte when typing at speed so if you spot anything terrible, correct below and I'll correct above.
By admin On March 16, 2009
No Comments
Hello again guys and gals… this is the second guide for a hunter I have posted.
I truly enjoy grinding……..and just killing mobs repeatedly for long periods of time., not because Im a mad asian gold farmer, but because you can see the effort reflected in your exp bar much quicker!
There is probably some superior areas for a hunter, however I found this one to be realitively quiet during the day and dead during the evening hours. Obviously this could vary from server to server……..but I suspect it will be consistent.
The mobs are especially easy for me to defeat, and there are loads all spread out nicely so you won't find yourself fighting two at a time….yet close enough to avoid excessive running. All in all, great killing and very low downtime.
Okay..here's the good stuff, the area is in Azshara, The Shattered Strand. This is the beach running down the east side of Azshara. It comprises a huge area, and all the mobs are from lvl 51-54. (The 54′s are just off the beach in the water). However, as a hunter using this mod http://www.curse-gaming.com/mod.php?addid=221 I could easily kill the lvl 54s at lvl 50.
On the mod, – this basically makes sure your pet has enough focus to growl and keep the mob at distance so your can whiddle down his health him with your bow/gun. Just enable the bite/claw/growl and it is absolutely perfect! I can take on mobs lvl 56 at lvl 50 with this mod and a fully skilled bear. Its the best mod I've found for WoW…….I highly recommend it.
As for the mobs there, humanoids are around…….but dont drop any form of cloth, they just drop loads of shells that you open to give Zesty Clam Meat and quite a few pearls, I've had 3 golden ones so far too. They drop reasonable cash (average about 5-7s). There are some ranged ones and some long range ones but they are fairly easy to defeat. I find that I only have to stop and eat or drink in every 20 kills or so.
Now, the exp is good (so I think). I can make around 20k a hour taking it slow and can push to 25k if I really go for it, and from lvl 50, you looking at about 7hours to lvl to 51 which is okay. =)
The method I use (may not be the most effective but works) is, Send Pet, Hunters Mark, Serpent Sting, Concussive shot, (by this time your pet has reached it and aggroed it), now just sit back and kill away… to save time I have, a. Put a macro for Hunters Mark and Pet Attack and b. Send pet and cast hunters mark before I loot the one Ive killed so my pet is allready aggroed him before I start beating up on him.
Now using the method above I chew through about 3200 arrows per 2 hours, so the way i work it is, stay there till I run out, hearth back to Orgrimmar, sell items and junk, restock and get flight path back to Azshara, run straight east, jump off the cliff and repeat….
Anyways, it worked for me and still is… best time I go is around 10pm GMT till about 9.30am GMT. Have fun and hope this works.
P.S there is no skinning here or beasts to slay, so some hunters may find it counter productive for leatherworking but its just for grinding. and i find a Elixir of the mongoose can help them down quicker.
By admin On March 14, 2009
No Comments
Taking your Priest into PvP:
Quite a few players will spec Shadow for the DPS/kills, however I have found it a lot more enjoyable to go Holy, not to mention that a Holy specced Priest is a far more valuable asset to a party then a Shadow Priest. If you want to power level a priest through the PvP ranks, then you will be forced to go Shadow. However this guide is for a Holy/Disc Priest, the more difficult, but more rewarding PvP path. When you are not healing and have Mana to play with always cast a Mind Blast or SWP when you can afford it. Never sit in a battle with full mana waiting to heal.
Overhealing, this is a common mistake of pure healers, to actually throw more healing at a player then what he/she really needs. A general rule of thumb that I use (As a heal spec Priest) is a simple 2 button combo and evaluate if further healing is needed, and that is: an instant cast Renew, and a cast of Flash Heal. This 2 button combo will work on every class but a Warrior. (Give a warrior an extra Flash Heal, and spam it if necessary) As a Holy Priest you have better heals and a better chance to crit on a heal, this is normally why Priests "over-heal". Don't worry, in time you will know exactly how much you need and when.
Who to heal? Who do I heal first, how do I prioritize? Another Noob mistake is for a healer to heal a caster with no mana, wtf? (Ohhh wand use FTW? I don't think so) Think of it this way, which will do the most DPS? Is there another healer getting waxed? Here is a general priority list:
1. Healer with Mana/Priest. A Druid should bear morph if he/she gets a ton of agro, and a Pally should bubble, so kind of watch out for other Priests.
2. Mage with Mana
3. Warrior with less then 25% HP left.
4. Shaman with Mana in melee. If the Shaman is not near melee peeps, he should be healing himself.
5. Rogue
6. Hunter
7. Warrior with 50% of HP left.
8. Warlock – Warlocks have a wide array of survivability tools from healing to Demon spec, so here healing will not be needed in the majority of cases.
9. Druid – A druid with little mana can morph, so give them the heal, hoping they know how to play their class.
10. Warrior with 75% of HP left.
11. Pally – Pally is last because they are always the last to die, (Even without a healer) they can bubble and heal themselves, so your services are really not needed, unless they are out of mana.
Keep in mind this is just a general list, of course there will always be other things to consider. How a class is spec'd makes a huge difference. Heal a Rest specced Druid and you will probably embarrass yourself, however healing a Druid that is specced heavy in Balance(and in Moonkin form) and you will be worshipped. Unless there are no other targets, NEVER heal a caster that is OOM, it would be much better for them to die and come back with full Mana/HP in 30 to 60 secs. Another thing to keep in mind is Dispel Magic, if you are healing someone always take half a second and look at the Debuffs, if there is any, cast DM after your Renew and Flash Heal.
Alterac Valley:
You will have a few choices to make before you start PvP'ing here. Level 51-60 can go to AV, and generally the lower the level the faster they are going to die, which means they need healed more then the 60's. I will not waste mana on a non-60 if I can help it, my opinion is that you should not be in the end game PvP BG's until you are 60, as you do nothing but "gimp" your side. But wait, it is your account and you can go to AV as a 51 if you want? Sure, but I am not going to waste my mana healing your ass
Drop the BOMB. Anytime you see your front line in a stalemate, and you have plenty of mana, go ahead and fear bomb. Buff up, shield, and run straight into the front line, AOE fear, Renew, and run back into your rear area again, with your finger on the DM button. As long as your healing duties are going fine, you can do this every 30 seconds.
MC – Mind Control in AV can be useful and hilarious. If you are going to run them into Korrack, or their guards, always use the best target you can. MC'ing a caster with no mana is a waste, MC'ing a Warrior/Pally with full HP into Korrack is very helpful. Just remember they will kill you when the MC wears off. Another way to really help is to MC an enemy and run them straight thru your line into the back, release the MC and watch him die in 2-3 secs. This is a double edged sword however, because if you are around a lot of nubs, then they will grief you for "bringing them dinner" instead understanding why you brought a solo target in the middle of 5-6 mages ?
Defending a Flag/Bunker – If you know me you know I don't "defend", however if you find yourself in this situation always hit a target that is capping the flag. If it is desperate and you got 10 enemies on the flag then fear bomb it on a suicide run.
Taking a Flag/Bunker – This is where your healing comes into a "power play", I know the flag is right in front of you, but don't cap it.(Unless solo) The person that is trying to cap will be the prime target of anyone, keep them healed and DM any effects. If someone is close to capping and you have an enemy incoming, charge them and fear them. (Or MC, but only MC if there is only 1 enemy target)
How to take a flag from the guards and an enemy defender with just you and 1 other person?
MC the enemy, run him into the guards, when he dies the guards will all come for you, and your partner caps the flag ? Remember to keep the distance between you and the guards at all times, this should not be too hard with a little experience.
WSG:
You have a spell called "Mind Vision", this will allow you to see where your flag is anytime you want. You just need to mentally note the name of the enemy that has your flag, cast MV on him/her (Use a target macro if you wish) and WHAM you have your flag loc. Remember the name of the game here: "Capture 3 flags to win", what they do not tell you is "Fighting in the middle is retarded". So always defend your flag, attack the enemy flag, or run escort, and as a Priest you should be running escort.
Something to remember when running escort is that it is NOT your job to heal others, always keep your attention on the flag carrier. If the flag carrier is full health and doing fine, then you can throw a heal to someone else. Do not forget DM here, as your flag carrier will be under all kinds of Debuffs! If things get overwhelming, run to the flag carrier and fear bomb. If the flag carrier is running way ahead of you, target the closest enemy (Probably mounted trying to catch the flag) and MC him/her.
Defending the Flag: Yeah you can do this, but unless you have 4+ Priests on your side (I have seen this) leave this chore to someone else. This is almost the same as carrying the flag, let someone else do this.
MC'ing the Flag carrier? I have seen this done effectively, but only in organized groups. Basically when there is a ton of escorts on the flag carrier, an enemy Priest will MC the flag carrier and run them in the opposite direction of their base. This gives your side a lot more time to bring down the carrier or the escorting healers. Do not try this in a pug though, and never MC a solo enemy carrier with 5 of your teammates on him/her ?
AB:
The best place for you to be in AB is defending the Lumber Mill flag. Anyone that comes along just gets MC'ed off the cliff. As a Holy Priest you should never be soloing here, run with a partner or group and always hang in the back. Since you will mostly fight in small groups here I am going to encourage suicide. When you die you really help your party out by helping them with a massive heal. If you are assaulting a flag and the numbers are about even go ahead and "heal out" your team, when you are out of mana, suicide. The best way to suicide is to run into a Mage, or grab the attention of an enemy Warrior. As in other BG's remember the strats on the flag, heal the capper and fear bomb if it gets overwhelming.
By admin On March 13, 2009
No Comments
The red Dafias mask is a rouge only headgear, its red bandana that covers your characters nose and mouth like you would see on a bandit or something.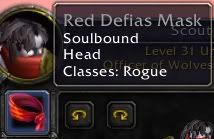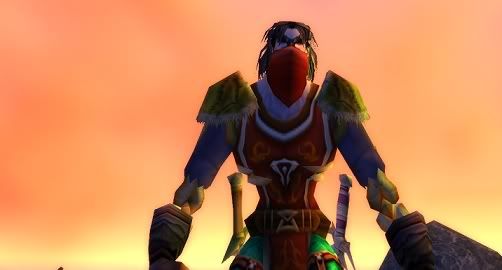 If you want one you will need to kill the Dafias in Westfall. Westfall is alliance territoy and is a bit tricky to get to as a low level horde (you should be at least level 15).

To get there take a zeplin from Undercity or Orgrimmar to Grom'gol Base Camp.

Then swim north up the coast of Straglethorn Vale, keep far away from land to avoid pulling agg.



Once in Westfall get on land (off the beach) and stealth your way further north. Just north of Gold Coast Quarry on the beach cliff there is a shed and a windmill surrounded by some level 12 – 13 Defias, its an out of the way place so you shouldnt see alot of alliance there. Just keep killing them it might take awhile for a mask to drop (about half an hour to an hour).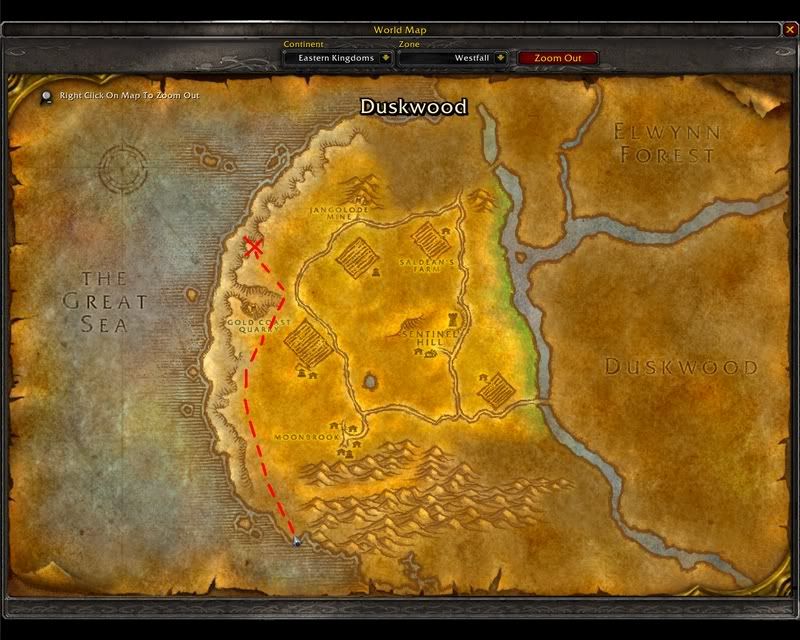 Once you've got it just hearthstone back to town.

Doing this in the morning will help reduce your chances of running into alliance (people tend to stop playing and go to sleep around that time of day).
By admin On March 12, 2009
No Comments
Heres my Hunter's recpide for Rogue / Melee Destruction:
Range is the key to PVP when using your Hunter. If you let the rogue, or other melee class get near you for more than 5 seconds, you may as well just lay down. You are a RANGED fighter, so use range or die.
Buy some gear, cheapskate!
Items that I use for PVP:
Bow of Searing Arrows + Sniper Scope.
Best arrows for your level + quiver.
The best armor and gear available to you.
Discombobulator Ray (made by engineers, i carry at least 2 – 5 shot rays with me always).
Highest Health Potions you can get.
Agility Potions, and any other stat bonus potions if you can afford them. (if not you should hunt more, fool!)
Shots used:
Concussion Shot
WIng Clip
SERPENT Sting (edited/corrected)
Rapid Fire
Arcane Shot
When in PVP mode, keep Track Hidden up always. Rogues will get the jump on you and you are dead before you can swing twice.
Heres how i beat melee classes up to 3 levs above me without a hitch:
First off, make sure you hotkey your shots for quick access. You lose much time by fumbling with the mouse clicking. Keep your fingers on key and ready. Rogues and other melees are quick to jump on you and slice you to bits, and you wont have a chance in hell with even the best melee weapon.
Be aware of your situation, always…..keep a sharp eye out, and be ready for anything. When horde hunting, i find a nice little hiding spot with some cover, and I try to use the terrain obstacles to my advantage. Be sly, you are a hunter, so HUNT.
Hunters Mark – ALWAYS.
Ice Trap. Then pull them into the Ice Trap with a Serpent Sting from MAXIMUM DISTANCE. I park my pet right on it, and have it set to attack freely so i dont have to click on Pet Attack. I often get tricky and place terrain obstacles between me and my target…trees, rocks, etc. This makes a great spot to place your trap.
Once he's slowed from the Ice Trap, fire Rapid Fire to get things rolling, keep moving backwards and strafing AWAY from them, then fire Concussion Shot. Keep backing up the entire time, keeping as much distance as possible. When the Concussion Shot breaks, you will be face to face with him, but dont melee, use your Wing Clip and get distance again, firing another Serpent Sting. (your autofire will always kick in for you when you fire a new special).
Your Concussion Shot will be recharged by this time, so use it, back up again, and fire Arcane Shot and keep plugging away with your auto fire.
If you find yourself in a tight spot where he has closed in on you, use your Discombobulator Ray immediately. This will slow him, and decrease his damage to you, allowing you AGAIN to get range between you and him, and keep firing till he drops. Its so cool watching a fat hordie turn into a Leper Gnome!
Do use your arcane shot for finishing touches, and for extra damage when you can.
If you keep your cool, and dont panic, you can drop most any melee player with this method, even a couple levels above you. Dont be afraid to use a Health Potion or a Clicky Heal item when needed.
Feign Death is your last option. Most times if i screw up, i will take it like a man and just go down honorably (cept for when fighting you smelly hordies!)
By admin On March 11, 2009
No Comments
Ok I found this somewhere. It is a bunch of BWH Teleporting Cords. BWH pretty much got nerfed on any legal server so I wouldn't use it but if your ever play on a private server like I do then they can be useful.


All coordinates are in the format of (Map#, X, Y, Z)

Map# 0 = Azeroth
Map# 1 = Kalimdor
Map# 189 = Scarlet Monestary
Map# 34 = Stockades
Map# 429 = Dire Maul
Map# 90 = Gnomergan
Map# 30 = Blackrock Depth
Map# 109 = Temple of Atal`Hakar
Map# 209 = Zul`Farrak
Map#70 = Uladaman

Emulator Only

GM Island, 1, 16238.291, 16219.044, 9.600

Arathi Highlands

Grindspot Boulderfist, 0, -2867.230, -1908.770, 69.036
Grindspot Witherbark, 0, -3152.203, -1953.388, 97.797
Chest, 0, -3155.892, -1761.141, 30.749
Stormgarden tower, 0, -1498.194, -1776.738, 64.921
Stormgarden, 0, -1841.093, -1599.046, 68.068
Refuge Point, 0, -2548.593, -1268.763, 21.666

Badlands

-Angor Fortress -Hidden Port- (-3303,-6365,266)
-Apocryphan's Rest -Hidden Port- (-2548,-6943,244)
-Blood Elf -Hidden Port- (-3628,-6800,248)
-Camp Boff -Hidden Port- (-3705,-7109,261)
-Camp Kosh (-3741,-6322,253)
-Camp Wurg (-2791,-6889,243)
-Dustbelch Grotto -Hidden Port- (-2342,-7360,309)
-Entrance to Loch Modan -Hidden Port- (-3325,-5950,303)
-Entrance to the Searing Gorge (-2129,-6923,277)
-Explorers League Camp -Hidden Port- (-3458,-6600,289)
-Inconspicuous Point -Hidden Port- (-3425,-6092,277)
-Inconspicuous Point (2) -Hidden Port- (-2888,-6569,268)
-Inconspicuous Point (3) -Hidden Port- (-2254,-6957,245)
-Kargath -Hidden Port- (-2136,-6644,248)
-Lethlor Ravine -Hidden Port- (-3967,-6747,288)
-Lethlor Ravine, North -Hidden Port- (-4133,-6509,267)
-Mirage Flats -Hidden Port- (-2846,-7228,313)
-Pillar of Opal (-3874,-6998,289)
-Questspot (0, -3134.322, -6769.609, 240.452)
-Questspot2 (0, -2724.453, -6635.494, 243.322)
-Theldurin the Lost (-3356,-7167,245)
-Uldaman (-3185,-6092,256)
-Uldaman Back Portal -Hidden Port- (-3767,-6639,265)
-Uldaman Portal -Hidden Port- (-2980,-6093,207)
-Valley of Fangs -Hidden Port- (-3175,-6709,266)

Blackrock Depths

-Duhgal Stormwing (-81,272,-77)
-Mashar Windsor (-230,316,-7Cool
-Portal Entrance (32,457,-70)
-Prison Boss (-169,278,-74)
-Ring of Law (-200,554,-52)
-Tobias Seecher (-289,547,-75)

Blackrock Mountain

-Blackrock Depths Portal (-922,-7181,166)
-Blackrock Spire Portal -Hidden Port- (-1211,-7529,285)
-Entrance (-1132,-7807,215)
-Entrance (2) -Hidden Port- (-1099,-7714,217)

Blackrock Spire

-Bijou -LBRS- (-551,-6,16)
-Halycon -LBRS- (-368,-165,64)
-Highlord Omokk -LBRS- (-298,-56,45)
-Jump Point (Top) -LBRS- (-363,21,50)
-Jump Point (Bottom) -LBRS- (-453,-4,-19)
-Quartermaster (UK)inaccurate -LBRS- (-447,-168,8Cool
-Ogres -LBRS- (-387,-79,47)
-Overlord Wyrmthalak -LBRS- (-532,-22,86)
-Portal Entrance (-228,78,50)
-Shadowhunter Vosh'gajin -LBRS- (-481,-73,20)
-Skitterweb Tunnels -LBRS- (-536,-109,-4)
-Unknown Room -LBRS- (-365,-23,-31)
-War Master Valoone -LBRS- (-466,-29,-17)
-WMV (2) -LBRS- (-516,-76,-7)

Darkshore

-Auberdine Inn (520,6407,9)
-Mist Veil's Lockbox (347,7133,-42)
-Mysterious Red Crystal (-161,6206,80)
-Silver Dawning's Lockbox (436,7076,-21)

Deeprun Tram

-Ironforge Portal (10,69,-4)
-Stormwind Portal (2490,68,-4)

Desolace

Khan Mrhata, 1, 2925.835, -1055.471, 180.711
Khan Jehn, 1, 1218.797, -1928.445, 88.407
Gelkis camp, 1, 2602.355, -1923.849, 64.185
Kolkar Village, 1, 1090.042, -869.782, 88.222
Magram camp, 1, 1065.232, -1746.859, 91.704
Desolace, 1, 1278.285, 150.986, 177.217

Dun Morogh

-Amberstill Ranch -Hidden Port- (-1302,-5471,409)
-Brewnall Village -Hidden Port- (315,-5356,394)
-Chill Breeze Valley -Hidden Port- (85,-5579,487)
-Dwarven Airfield -Hidden Port- (-1628,-4867,504)
-Coldridge Pass, North -Hidden Port- (26,-6029,412)
-Coldridge Pass, South -Hidden Port- (115,-6247,435)
-Coldridge Valley, North -Hidden Port- (325,-6131,400)
-Coldridge Valley, South -Hidden Port- (527,-6515,393)
-Frostmane Hold -Hidden Port- (575,-5580,395)
-Gates of Ironforge -Hidden Port- (-829,-5103,500)
-Gnomeregen -Hidden Port- (571,-5139,420)
-Gnomeregen Back Portal (769,-4859,242)
-Gnomeregen Portal (925,-5163,257)
-Gol'Bolar Quarry -Hidden Port- (-1615,-5684,383)
-Helm's Bed Lake -Hidden Port- (-2006,-5642,391)
-Iceflow Lake -Hidden Port- (35,-5188,380)
-Inconspicuous Point -Hidden Port- (-509,-5179,388)
-Kharanos Inn (-529,-5602,400)
-Misty Pine Refuge -Hidden Port- (-1106,-5359,395)
-North Gate Outpost -Hidden Port- (-2346,-5129,400)
-North Gate Pass (-2196,-5280,425)
-Shimmer Ridge -Hidden Port- (-224,-5052,446)
-South Gate Outpost -Hidden Port- (-2357,-5463,406)
-South Gate Pass (-2249,-5632,425)
-The Cave of Old Icebeard -Hidden Port- (-57,-5614,418)
-The Tundrid Hills -Hidden Port- (-881,-5678,400)

Gnomeregen

Electrocutioner 3000, 90, 503.856, -551.883, -216.810
Copper Vendor, 90, 194.074, -558.584, -193.731
Crowd Pummeler 9-60, 90, 362.497, -911.837, -272.596
Mekginer Thermaplugg, 90, 735.520, -584.153, -325.310
Dark Iron Ambassador, 90, 533.791, -720.374, -286.926
Viscious Fallout, 90, 93.677, -390.424, -211.332
Entrance (Inside), 90, -3.633, -327.205, -152.847
Entrance (Outside), 0, 924.022, -5163.718, 257.178

Scarlet monestary

Blood Mage, 189, 1417.237, 1814.001, 8.446
Whispering Gardens, 0, -704.018, 2783.188, 129.149
Entrance (Outside), 0, -818.293, 2875.197, 160.333
Inquisitor Fairbanks, 189, 1372.896, 1170.982, 32.820
Inquisitor CMNDR, 189, 1398.669, 1216.303, 30.349
Entrance (inside), 189, 1308.100, 853.679, 18.671
Herod, 189, -428.659, 1987.546, 11.591
Houndmaster, 189, -249.526, 145.634, 19.201
Libary end, 189, -429.805, 128.190, 18.533

Brock Depts

Brock Dpths(Inside), 230, 35.368, 457.969, -69.293
The Lyceum, 230, -418.463, 1382.085, -94.675
Magmus, 230, -628.585, 1376.223, -92.054
EmperorPrincess, 230, -847.297, 1376.701, -87.722
Summoner`s Tomb, 230, -246.025, 1280.132, -77.946
Panzor The Invincibl, 230, -163.151, 1152.102, -74.927
Ambassador Flamelash, 230, -238.075, 1009.606, -61.388
The Grim Guzzler, 230, -180.947, 919.932, -43.704
GeneraL Angerforge, 230, 62.811, 685.756, -59.438
Lord Roccor, 230, -44.363, 510.277, -61.374
Fineous Darkvire, 230, -358.160, 978.753, -67.468
Lord Incendius, 230, -273.386, 894.938, -69.972
Black Vault, 230, -355.414, 805.477, -50.200
Ring Of The Law, 230, -188.924, 596.812, -54.154
Kharan Mighthammer, 230, -137.959, 340.518, -64.949
Brock Dpths(Outside), 0, -923.004, -7178.675, 166.302

Temple of Atal`Hakar
Morphaz, 109, 90.635, -661.257, -90.834
Shade Of Eranikus, 109, -21.779, -657.988, -90.835
Prophet / Wretchet, 109, -85.430, -428.187, -86.906
Avatar Of Hakkar, 109, 276.560, -466.501, -90.476
Weaver and Dreamscyt, 109, 92.861, -459.491, -94.872
Altar Of Hakkar, 109, 94.698, -420.763, -172.531
Entrance (Outside), 0, -3995.147, -10175.121, -112.746
Entrance (Inside), 109, 100.056, -312.912, -131.849

Zul`Farrak
Entrance (Inside), 209, 842.587, 1212.350, 8.944
Ruuzlu, 209, 1011.468, 1738.950, 53.827
Sergent Bly, 209, 1292.501, 1885.443, 46.084
Witch Doctor, 209, 1016.352, 1912.420, 11.516
Antu`sul, 209, 686.168, 1811.088, 14.724
Theka the martyr, 209, 869.836, 1802.619, 9.902
Zerillis, 209, 902.561, 1663.347, 9.304
Entrance (Outside), 1, -2891.472, -6797.509, 8.880

Uladaman

Galgann, 70, 426.524, -2.346, -41.869
Annora, 70, 210.113, -163.628, -49.726
Ancient Stone Keeper, 70, 216.963, -38.406, -48.385
Baelog, 70, 73.380, -340.129, -51.241
Entrance (Inside), 70, 381.612, -214.047, -38.850
Remains, 70, 171.244, -172.786, -47.412
Revolsh, 70, 187.121, -229.532, -44.630
Ironaya, 70, 313.829, -231.463, -47.598
Grimlok, 70, 440.409, 77.685, -36.621
Obsidian Sentinel, 70, 390.440, -166.929, -36.441
Vault, 70, 292.001, 132.114, -52.205
Entrance (Outside), 0, -3764.585, -6625.368, 266.009

Hinterlands

Overlook cliffs, 0, -4666.000, 290.581, 110.880

Ironforge

Main, 0, -1192.703, -4822.291, 502.469
-Auction House (-905,-4962,504)
-Bank (-994,-4881,504)
-Deeprun Tram Portal (-1318,-4839,502)
-Gryphon (-1155,-4822,502)
-Hall of Explorers -Hidden Port- (-1168,-4656,504)
-Hall of Mysteries (-913,-4611,501)
-Inn (-860,-4840,502)
-Military Ward (-1202,-5025,502)
-Old Ironforge -Hidden Port- (-1035,-4816,439)
-Path to Old Ironforge -Hidden Port- (-1070,-4844,500)
-The Forlorn Cavern -Hidden Port- (-1132,-4636,501)

Loch Modan

-Algaz Station -Hidden Port- (-2605,-4866,349)
-Cave (-4208,-5435,392)
-Dun Algaz (-2699,-4687,319)
-Entrance to Badlands -Hidden Port- (-3325,-5950,303)
-Entrance to the Searing Gorge -Hidden Port- (-2452,-6047,328)
-Grizzlepaw Ridge -Hidden Port- (-3157,-5823,346)
-Gryphon (-2930,-5422,247)
-Inconspicuous Point -Hidden Port- (-4187,-5269,360)
-Inconspicuous Point (2) -Hidden Port- (-3017,-5048,325)
-Inconspicuous Point (3) -Hidden Port- (-2745,-5738,367)
-Inn (-2972,-5379,323)
-Ironband's Excavation Site -Hidden Port- (-3736,-5875,356)
-Mo'grosh Stronghold -Hidden Port- (-3733,-4874,310)
-Mo'grosh Stronghold (2) -Hidden Port- (-4027,-4925,302)
-North Gate Pass -Hidden Port- (-2544,-4772,355)
-Silver Stream Mine (-2971,-4827,320)
-South Gate Pass -Hidden Port- (-2567,-5618,391)
-Stonewrought Dam -Hidden Port- (-3174,-4699,311)
-The Farstrider Lodge -Hidden Port- (-4255,-5683,396)
-The Loch (-3401,-5358,296)
-The Loch, Northern Island -Hidden Port- (-3320,-4923,306)
-The Loch, South Eastern Shore (-3723,-5374,296)
-Tunnel Rat Hideout -Hidden Port- (-2595,-5037,343)
-Valley of Kings -Hidden Port- (-2745,-5738,367)

Menethil Harbor

Menethil Harbor, 0, -821.268, -3831.835, 9.955

Ogrimarr

Ogrimarr, 1, -4374.619, 1340.792, 26.188

Scarlet monestary

Scarlet monestary, 0, -703.132, 2860.440, 141.521
Herod, 189, -409.298, 1968.786, 11.591
Libary end, 189, -429.805, 128.190, 18.533
Libary Houndmaster, 189, -249.563, 145.607, 19.201

Stormwind

Kam Deepfury [Stockades], 34, -75.001, 127.263, -34.616
Bazil Thredd [Stockades], (34, -142.285, 77.233, -33.940
Stockades entrance, 0, 846.958, -8763.378, 97.634
Druid trainer, 0, 1097.110, -8775.714, 92.539

Stranglethorn Vale

The vile reef, 0, 390.048, -12537.969, 1.695
Skullsplitters, 0, -864.975, -12809.742, 59.785
Booty Bay Gryphon, 0, 475.496, -14485.219, 31.202
Booty Bay, 0, 448.793, -14452.643, 9.098
Hunter camp, 0, -23.646, -11555.944, 1.988
Rebel camp, 0, -175.822, -11327.475, 74.959

Swamp of sorrows

Swamp of sorrows, 0, -2762.415, -10344.209, 22.056

Teldrassil

Teldrassil, 1, 1962.595, 9983.458, 1326.185

Theramore isle

Theramore isle, 1, -4518.733, -3853.896, 9.345

Thunder Bluff

Thunder Bluff, 1, 134.936, -1285.511, 131.051

UnderCity

UnderCity, 0, 235.302, 1877.203, 60.676

Wetlands

-Angerfang Encampment -Hidden Port- (-2409,-3541,6Cool
-Black Channel Marsh -Hidden Port- (-1179,-3544,Cool
-Bluegill Marsh -Hidden Port- (-1078,-3206,10)
-Boat to Auberdine -Hidden Port- (-580,-3740,6)
-Boat to Theramore -Hidden Port- (-588,-3860,7)
-Direforge Hill -Hidden Port- (-2973,-2821,40)
-Dragonmaw Gates, 1st Gate (-3603,-3484,70)
-Dragonmaw Gates, 2nd Gate (-3927,-3596,112)
-Dragonmaw Gates, 3rd Gate -Hidden Port- (-3935,-3905,178)
-Dragonmaw Gates, 4th Gate (-3731,-4061,206)
-Dun Algaz, North -Hidden Port- (-2631,-4108,44)
-Dun Algaz, South -Hidden Port- (-2698,-4431,268)
-Dun Modr -Hidden Port- (-2525,-2587,85)
-Graveyard (-2430,-3296,19)
-Grim Batol (-3454,-4068,281)
-Grim Batol Falls -Hidden Port- (-3319,-4212,232)
-Gryphon (-783,-3792,9)
-Inconspicuous Point -Hidden Port- (-1701,-3286,9)
-Inconspicuous Point (2) -Hidden Port- (-3005,-3352,2Cool
-Inn (-832,-3826,10)
-Ironbeard's Tomb (-2254,-2798,50)
-Mosshide Fen -Hidden Port (-3184,-3788,61)
-Raptor Ridge -Hidden Port- (-3289,-3266,65)
-Saltspray Glen (-1698,-2653,6)
-Sundown Marsh -Hidden Port- (-1470,-2877,12)
-Thandol Span -Hidden Port- (-2525,-2452,82)
-The Green Belt -Hidden Port- (-2446,-3169,6)
-Thelgen Rock -Hidden Port- (-2589,-3931,45)
-The Lost Fleet (-944,-2990,1)
-Whelgar's Excavation Site -Hidden Port- (-1964,-3583,119)

Uldaman

-Archaedas (267,92,-52)
-Back Portal (382,-213,-39)
-Discs of Norgannan (296,155,-52)
-Galgann Firehammer (365,-2,-43)
-Grimlok (459,37,-33)
-Hall of Crafters (251,56,-26)
-Hidden Chamber (316,-234,-47)

Mineral Deposits

Tin
Tin1, 0, 1128.437, 380.612, 106.540
Tin2, 0, 680.623, -48.598, 77.131
Tin3, 0, 928.873, -327.070, 130.504
Tin4, 0, 377.624, -254.326, 120.938
Tin5, 0, -637.454, 114.951, 98.336
Tin6, 0, -1253.306, 9.064, 67.594
Tin7, 0, -1111.048, -998.874, 50.178
Tin8, 0, -797.498, -819.739, 27.257

Iron
Iron1, 0, -376.522, -250.874, 47.652
Iron2, 0, -497.025, -165.543, 80.879
Iron3, 0, -1770.198, -403.018, 102.457
Iron4, 0, -1200.856, -1387.800, 52.676
Iron5, 0, -1184.906, -1012.624, 67.010
Iron6, 0, -2014.320, -679.541, 58.545
Iron7, 0, -3582.242, -809.205, 81.255
Iron8, 0, -3887.300, -826.726, 147.630
Iron9, 0, -3416.673, -1843.463, 66.697
Iron10, 0, -3307.236, -2026.221, 54.615
Iron11, 0, -2838.364, -2026.543, 77.846
Iron12, 0, -2702.460, -2052.276, 83.492

Mithril
Mithril1, 0, -1644.563, -1941.710, 48.277
Mithril2, 0, -1786.152, -2174.339, -40.786
Mithril3, 0, -2678.035, -2060.949, 86.595
Mithril4, 0, -2477.438, -6430.927, 331.063
Mithril5, 0, -2221.812, -7165.830, 303.735
Mithril6, 0, -2239.968, -7388.829, 234.581
Mithril7, 0, -2328.451, -7427.174, 240.730
Mithril8, 0, -2455.574, -7312.527, 304.999
Mithril9, 0, -3197.007, -7285.680, 296.152
Mithril10, 0, -3475.085, -7338.730, 331.339
Mithril11, 0, -4063.377, -6443.655, 276.519
Mithril12, 0, -277.346, 894.601, 152.136
Mithril13, 0, -504.296, 717.142, 169.667
Mithril14, 0, -726.155, 654.673, 160.006

Thorium
Thorium1, 1, -1962.575, -6304.269, -268.692
Thorium2, 1, -1145.929, -6832.899, -262.932
Thorium3, 1, 1116.950, -6300.540, 37.349
Thorium4, 1, 1934.370, -7509.133, 18.743
Thorium5, 1, 1380.150, -8102.226, 10.947
Thorium6, 1, 206.093, -7845.003, 9.950
Thorium7, 1, 1132.890, -8067.264, 21.475

Rich – Eastern Continent
Rich1, 0, -1493.368, -7905.901, 157.049
Rich2, 0, -1141.439, -8410.101, 191.162
Rich3, 0, -1944.531, -7493.369, 197.175
Rich4, 0, -1293.634, -8328.866, 213.340
Rich5, 0, -3693.768, 2767.004, 104.064
Rich6, 0, -4837.816, 3128.018, 151.379
Rich7, 0, -3768.298, 2592.304, 227.826
Rich8, 0, -2749.265, -7987.449, 163.884
Rich9, 0, -2383.501, -7612.536, 138.214
Rich10, 0, -1694.291, -8254.239, 159.177
Rich11, 0, -1035.388, -8101.578, 134.639
Rich12, 0, -2308.980, -7730.445, 134.229
Rich13, 0, -1025.698, -7929.428, 134.588
Rich14, 0, -706.627, -7620.302, 182.683
Rich15, 0, -3568.789, 1649.624, 133.419
Rich16, 0, -5029.502, 3325.120, 193.386

Unorganised

Freewind Post, 1, -2415.737, -5417.191, 89.391
Stonetalon Peak, 1, 1500.616, 2507.829, 263.017
Camp Narache, 1, -258.921, -2958.619, 51.628
BloodHoof Village, 1, -395.457, -2327.041, -8.042
Alcaz Island, 1, -5036.388, -2635.360, 22.805
Backenwall Village, 1, -2854.936, -3124.194, 34.806
Camp Taraujo, 1, -1978.285, -2361.865, 96.705
The Crossroads, 1, -2564.763, -393.874, 96.684
Razor Hill, 1, -4703.350, 306.978, 11.327
Ungoro Crater, 1, -1244.090, -6870.633, -273.186
Dread Isle, 1, 3379.966, -5966.776, 42.526
Ruins of Solarsal, 1, 3698.120, -4603.896, 6.572
Dire Maul, 0, PvP, 1, 1102.483, -3808.950, 131.969
Dark Portal A, 0, -3206.947, -11892.655, -14.737
Gadgetzan,0, Tana, 1, -3626.013, -7118.693, 9.166
EastWall Gate, 0, -4039.090, 3188.491, 107.992
Coldrigve valley, 0, 331.033, -6240.320, 382.758
Burning Steppes, 0, -1592.976, -8076.936, 139.748
Lake Everstill, 0, -2146.927, -9314.865, 49.335
Goldshire, 0, 278.995, -9432.915, 59.318
Moonbrook, 0, 1345.766, -10952.584, 43.416
Jeguero Isle, 0, -299.929, -14595.856, 10.452
PVP RING, 0, 180.894, -13209.627, 54.557
Dandread Fold (*), 0, -428.604, 1160.761, 61.222

As a reminder, you do not need to use these to teleport, you can use BWH's coords to run to the locations